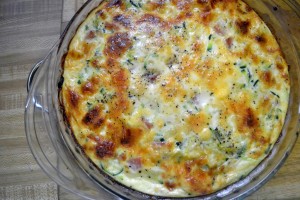 Good for Breakfast, Lunch or Dinner!
Ingredients
8 large eggs
½ cup half and half
½ tsp salt
1/8 tsp pepper
1/8 tsp nutmeg
1 cup chopped cooked chicken
1 cup frozen broccoli florets
1 cup shredded sharp Cheddar cheese
Directions
Preheat oven to 350 degrees. Spray a 9 inch baking dish with cooking spray.
Mix the eggs, half and half, salt, pepper and nutmeg in a bowl and then pour mixture into baking dish.
Sprinkle the chicken, broccoli florets and cheese over the top and push them down into the egg mixture.
Bake for about 40 minutes – until the top of the quiche turns golden brown and a toothpick comes out clean. Let rest for 5 minutes before slicing.
Note: You can substitute cooked, drained spinach for the broccoli and switch to Parmesan or Swiss cheese to change it up a bit!
Makes 8 servings
Nutrition Facts:
Calories 160
Total Fat 11g
Effective Carbohydrates 1g
Dietary Fiber 2g
Protein 14.5g
From The Good Carb Chef