Can they actually help with weight loss? Can they potentially hinder weight loss? So those are some real questions and we will get to them as we go.
Here's an overview of artificial sweeteners. What role does sugar play in your diet? We will talk about nutritive vs. non-nutritive sweeteners. There is a difference there.  We'll talk about sugar alcohols and which ones have been around for a while.  Then we'll discuss saccharin, aspartame, sucralose, and more.  Finally, we will talk about artificial sweeteners and weight gain.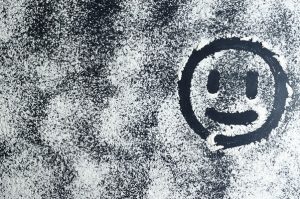 Things have changed over many, many years.  A couple hundred years ago 1800-average consumption of sugar was 25 pounds a year.  By the year 2000, average sugar consumption was 146 pounds a year!  We have an innate desire for sweet things. As we've talked about in the past, your body requires NO sugar/carbohydrate to survive. In order to reduce the consumption of sugar other sources of "sweetness" have been developed in hopes that it will be better to have no so much sugar. This came about because we realized that maybe all this sugar isn't good for us.
We divide sweeteners into nutritive vs. non-nutritive.  Anything that is going to provide us with true nutrition or nourishment is considered a nutritive sweetener.  Foods from food groups (grains, vegetables, fruits, dairy, meat, and oils) provide nourishment and calories so they are considered nutritive.  Products that are added to foods and do not provide any nourishment are considered non-nutritive. FDA places sweeteners under the "GRAS" (generally regarded as safe) list or as "food additives" or "dietary supplements." It's thought that they're safe. We don't know it absolutely. There may not be a way to study it completely. They can be listed under different things under the FDA. It will depend on what they're made up of.  Since 1999 at least 10,000 new products containing sweeteners have been launched.  It's probably close to 15,000 now.
Sugar alcohols are technically a nutritive sweetener because they provide calories (1.5-3 cal/gram). We see a lot of marketing out there. They can be labeled as sugar free. Sugar free doesn't necessarily mean carbohydrate free.  And, it doesn't necessarily mean calorie free. Sugar alcohols are neither sugar nor alcohol, but are carbohydrates. Sugar alcohols occur naturally in many fruits and vegetables. That can be the reason why there is some sweetness to some fruits and vegetables. Some of them contain fructose. It's actually sweeter than other types of sweeteners. Typically sugar alcohols aren't as sweet as table sugar. Sweetness varies from 25%-100% as table sugar (sucrose).  That means that often a lot more is added to mimic the sweetness. There are lots of examples out there like sugar free gum.  But it's not carbohydrate free.  The following are sugar alcohols: sorbitol, mannitol, xylitol, erythritol, maltitol, lactitol, and isomalt.  They provide fewer calories than sugar since they are not completely absorbed. Carbohydrate provides 4 calories per gram. Sugar alcohols are typically about 1 ½ -3 calories per gram.  Sugar alcohols have less sugar, but that doesn't mean they can't raise your blood sugar. The carbohydrate will eventually be broken down into sugar. They can cause the following side effects: gas, bloating, and diarrhea. Some people are very sensitive to sugar alcohols. Remember: they are NOT calorie free and since not as sweet, you often will eat more.
Saccharin has been around for a long period of time: sweet n'low, Sugar Twin, Necta Sweet.  It's been around for over 100 years. It was discovered in the 1800's by researchers working on coal tar derivatives.  It's calorie free but it does have 200-700 times the sweetness of table sugar. Most of these artificial sweeteners we're talking about have tremendous amounts more sweetness than table sugar. It tends to have a bitter aftertaste. Originally there was a concern of "bladder tumors in rats" (no increased risk in humans). The researchers gave rats 100X more than any of them could ever actually eat in a day. There's no way anyone can ever eat this much sugar. When they re-did the study, they found that there were rats that were pre-disposed to getting bladder tumors anyway!  So, the tumors probably had nothing to do with the saccharin. It's never been shown to cause tumors in humans. If you're allergic to sulfa medications, potentially you could have an allergic reaction.  It's very rare, but not impossible.
Aspartame was discovered in 1965 by scientists working on "ulcer drugs." For some reason they licked their fingers and discovered how sweet it was. It's now found in over 6000 foods.  Aspartame is Nutrasweet, Equal, and Sugar Twin. They made this by connecting 2 amino acids (aspartic acid and phenylalanine).  These 2 amino acids together have a very sweet taste. Technically it will have calories, but since it's 200X sweeter than sugar, this amount of calories is miniscule. People with phenylketonuria (PKU) can't break down phenylalanine. There have been reports of headaches. There are numerous websites that rail against its use. This is the most controversial sweetener. But there's never been a study that showed that this is a problem. Because it's just 2 amino acids, there really shouldn't be a reason for any problems.
Sucralose is Splenda. It was discovered while trying to make a new insecticide. The name is somewhat confusing because it sounds a lot like sucrose. Sucrose is table sugar. They're two completely different things. Splenda is about 600X the sweetness of sugar.  It can be used for cooking and baking. It's made from sugar, but it's nothing like sugar. They chemically altered the sugar and put a chlorine molecule on the sugar, therefore rendering it unable to be absorbed. It's like a backward or left-handed sugar. You get the taste of sugar, but you don't get the calories. They added a filler to Splenda called dextrose or maltodextrin to provide bulk and volume.  It's a marketing ploy that sucralose has not calories but the fillers do have calories. A serving size has not calories which is technically right. However, a serving is less than a teaspoon. A cup actually has about 96 calories and 32 grams of carbs! A cup of sugar has about 768 calories and 192 grams of carbs. So it's all a marketing ploy with regards to it having no calories.
Acesulfame K (Ace K) was approved in 1988. The K is potassium. It's 200X sweeter than sugar. It's often used as a "flavor enhancer." It's often put together with another type of sweetener because it tends to make it more palatable. It makes for a synergistic effect. That's what is used in many of the "zero" sodas. It's often listed in ingredients as: acesulfame K, acesulfame potassium, ace-k, Sunett, Sweet One, Swiss, Sweet. It does contain a carcinogen called methylene chloride. However, the amounts are so tiny that it's never really a thought of it causing any problems. It's been linked to headaches, depression, and nausea. There are minimal studies done to fully evaluate. They're generally regarded as safe.
Neotame has been FDA approved since 2002 (brand name Newtame). It's a newer version of Aspartame without the phenylalanine dangers to PKU patients. It's about 10,000X sweeter than sugar. It's often used as a "flavor enhancer." A newer one out there similar to neotame is altitame. It's amino acids put together: aspartic acid and alanine. It's 2000X sweeter than sugar.  It's not been approved in the US yet as far as I know. It very likely will get approved.
Advantame is the cousin to Aspartame. The FDA approved it in May, 2014 (6th one approved). It's 20,000X sweeter than sugar. It dissolves in water. It doesn't break down in heat so it can be used in cooking. It does have miniscule amounts of phenylalanine. The "safe" consumption level is >40,000 packets/day. Well good luck with eating 40,000 packets a day! Very unlikely it's going to cause any problems.
Stevia/Rebiana is one you hear about more and more often. There are many of them out there. They're all based on the stevia plant. It's a plant native to South America (Stevia rebaudiana).  They're starting to grow it more and more places. It's now being cultivated for harvesting its sweet leaves. The natives used to just pick the leaves and chew on them.  There's some evidence that potentially it can actually help control blood sugar. It's 200-300X sweeter than sugar. The working molecule from the plant is called Rebaudioside A. By itself is available as a sweetener labeled as: Only Sweet, Truvia, PureVia, Reb-A, Rebiana, and SweetLeaf. Stevia can be sold as a "dietary supplement." It's truly not an artificial sweetener because it comes from a plant. Just because it comes from a plant doesn't mean it's necessarily a good thing.  A lot of poisons come from plants too. It doesn't have any obvious harmful effects. There is a question as to whether it can help with controlling blood sugar. This is probably one of the potentially safer ones out there. There just aren't a whole lot of studies being done. It's already approved so who's going to go back and start doing studies?
A newer one is called Nectresse which is "from the makers of Splenda." It's made from Monkfruit, molasses, and erythritol. Monk fruit is about 150X sweeter than sugar. It's said to have "zero calories" in a packet. Again, that's somewhat of a marketing ploy. One little packet technically can be called zero calories. That's not really true because if you're using it in a large amount (baking) the calories would be there. It's about 1/3 the calories of table sugar. It's not technically calorie free because it's mixed with molasses and monk fruit.
Are artificial sweeteners helpful or a hindrance to weight gain? Research is showing both possibilities. Can we see weight gain or weight loss? It could be both. It may depend on the individual. If you're taking in fewer calories and using an artificial sweetener it could potentially help you with weight loss. The flip side is it can work against you because artificial sweeteners are so much sweeter than sugar is. They train us to like really sweet things. They may even increase sugar cravings. Sometimes when people are trying to stop sugar cravings they eat other things too that have more sugar and drives the calories up. So it might help with actually keeping the sugar amount lower, but it could cause you to eat more. Also when you get something sweet in your mouth, your body thinks it's getting sugar. Your body prepares for the sugar coming into the intestinal tract by raising insulin. Potentially artificial sweeteners can raise insulin levels. Insulin is the hormone that tells your body to store fat. Much higher sweetness trains you to prefer sweeter things. It depends what you're doing with the artificial sweetener. My belief is that if you're going to use them, use the smallest amount possible. There's no nutritional value of any artificial sweetener. I would encourage you to experiment. Cut them out and see what happens. If you've hit a plateau and can't figure out what's going on, artificial sweeteners could be part of your solution.
Any sweeteners are not essential nutrients. They exist to nurture your sweet tooth not your body! Our innate desire for sweetness may be interfering with our ability to judge "good" from "bad." As a general rule you don't get something for nothing! I would recommend trying to avoid sugar and artificial sweeteners as much as possible.
If you have questions don't hesitate to contact us here at The Center for Weight Loss Success.  You can bring your questions when you come in. Stop by and get your free body composition analysis done. You want to preserve lean body mass and get rid of the fat. You should be receiving the weight loss tips and weekly recipes. Subscribe to my weekly webinar each Tuesday at 6pm.Remember it's your life. Make it a healthy one. Have a good evening everyone. Take care.