Genuine comfort food – without the carbs!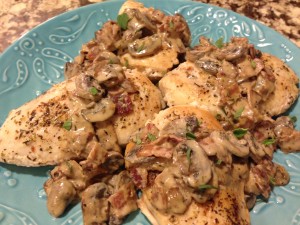 Ingredients
4 boneless, skinless chicken breasts
1 Tbls vegetable oil
2 tsp Italian seasoning
Salt & Pepper
Sauce
6 oz sliced white mushrooms
6 slices bacon, cooked & crumbled
2 cups half & half
Fresh thyme, snipped
Directions
Preheat the oven to 350 degrees.
Add vegetable oil to skillet and place over medium-high heat.
Wash chicken breasts and pat dry with paper towel.
Sprinkle each chicken breast with Italian seasoning and place in hot oil.
Cook for 5 minutes on each side or until lightly browned.
Spray 9×13 baking dish with cooking spray.
Remove chicken from skillet and place in baking dish. (Leave skillet over heat)
Bake at 350 for 20-25 minutes or until juices run clear.
While chicken is baking, add sliced mushrooms to the skillet and allow to caramelize.
Add crumbled bacon and half & half. Bring to a low boil and reduce to simmer.
Cook for 2-5 minutes or until sauce starts to thicken.
Remove chicken from oven and plate. Spoon cream sauce over each chicken breast to serve. Garnish with fresh snipped thyme.
Note: if using light half & half, you will need to adjust the nutritional information.
Makes 4 servings
Nutrition Facts:
Calories 365
Total Fat 19g
Total Carbohydrates 6.5g
Dietary Fiber 0g
Protein 45.5g
Print Recipe  Bacon and Mushroom Smothered Chicken Breasts