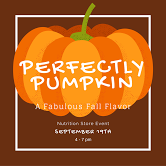 If you missed our event on Monday – make these at home & enjoy this tasty snack!
Ingredients:
1/4 cup ground flax seed or almond meal
2 Tbsp Chia seeds
1/2 Tbsp of ground cinnamon
3 eggs
2 teaspoons vanilla
1/4 cup unsweetened almond or cashew milk
1/4 cup Splenda
4 scoops vanilla protein powder* (about 1 1/3 cup)
1 teaspoon baking soda
1 teaspoon baking powder
1 can (15 oz) pumpkin puree
*We used Leaner Living – Vanilla Ice Cream
Directions:
Preheat oven to 350 degrees.
Add all the ingredients to a mixing bowl and combine well.
Grease an 8×10″ baking dish and pour the entire mixture and spread out in pan and bake for 30 minutes. Allow to cool before cutting.
Recipe makes 24 Squares.
Nutrition Per Pumpkin Square:
Calories 45
Fat 2g
Protein 3.25g
Carbohydrates 3.5g
Fiber 2g