Pick up some Proti pasta and satisfy your cravings for pasta!
Ingredients                                                                                                                              
• 1 pound perch or walleye or other lean white fish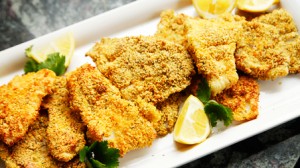 • 2 egg whites
• 1/4 cup skim milk
• 1/4 cup all-purpose flour
• 1/2 cup plain bread crumbs
• 1/4 teaspoon black pepper
• 1/4 teaspoon paprika
• 2 ounces Parmesan cheese, fat-free
• 4 packets Proti-Pasta, dry (about 4 cups)
Directions
1. Place oven rack in center rack position; heat oven to 500° F. Line cookie sheet with foil; spray with nonstick cooking spray. Remove skin from walleye fillets; cut into 4 equal pieces, cutting diagonally if necessary for uniform size.
2. In shallow bowl, combine egg whites and milk; beat well. Place flour and bread crumbs on separate dinner-sized plates. Add pepper to flour; mix well. Add paprika to bread crumbs; mix well.
3. Dip fish in flour mixture, coating thoroughly. Dip floured fish in egg white/milk mixture; dip in bread crumbs mixture, coating thoroughly. Place on sprayed foil-lined cookie sheet.
4. Place cookie sheet on center oven rack; bake at 500° F for 10 minutes.
5. Reduce oven temperature to 450° F. Remove cookie sheet from oven; carefully turn fish over. Return to oven; bake an additional 5 minutes or until fish flakes easily with fork. If desired, sprinkle with pepper before serving.
6. Empty contents of packet of Proti-Pasta into a pot of boiling water. Cook for 12 minutes (for al dente) or until desired texture is achieved. Drain and serve.
Makes 4 servings
Nutrition Facts: Calories 368, Total Fat 4.4g, Effective Carbohydrates 26.4g, Protein 49.8g