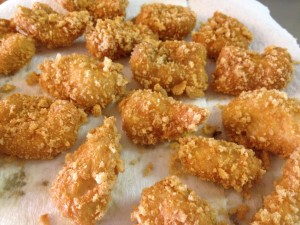 Baked to perfection! 
Ingredients
1 large bag regular pork rinds
½ tsp Italian seasoning
¼ tsp pepper
1/8 tsp garlic powder
1 ½ pounds boneless, skinless chicken breasts, cut in 1 inch cubes
2 large eggs, beaten
¼ cup Texas Pete
¼ cup butter, melted
Directions
Preheat oven to 400 degrees and spray baking sheet with cooking spray.
In large storage bag, crush pork rinds with rolling pin or the flat edge of a meat mallet. Add Italian seasoning, pepper and garlic powder.
Dip chicken cubes in beaten eggs and then place into the bag of seasoned pork rind crumbs. Shake to coat.
Remove cubes and gently place on baking sheet. Bake at 400 degrees for 15-16 minutes or until juices run clear.
Note: Serve your Buffalo Chicken Bites with bleu cheese dressing and celery sticks.
Makes 8 servings
Nutrition Facts (without dressing):
Calories 255
Total Fat 14g
Effective Carbohydrates 0g
Dietary Fiber 0g
Protein 30g
From The Good Carb Chef