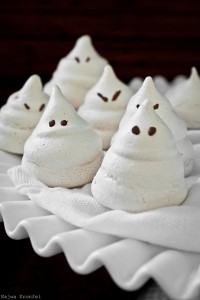 Ingredients:
3 egg whites at room temperature
1 tsp vanilla extract
1/2 tsp cream of tartar
1/8 tsp salt
3/4 cup white sugar
Mini chocolate chips 
Directions:
1. Preheat oven to 250 degrees.  Line a baking sheet with parchment paper or coat with cooking spray.
2. Beat egg whites until foamy, add vanilla, cream of tartar and salt. Beat on high until stiff peaks form.  Add sugar 1 Tablespoon at a time and beat until glossy and smooth.
3. Drop by spoonful onto the pan.  It's okay to place them close together since they don't spread much.  Mound a smaller dollop on top and lift with spoon to form a peak.
4. Press 2 mini chocolate chips into each for eyes.
5. Bake for 40 minutes. Turn off oven but do not open door. 
6. Allow to cool in oven for at least 3 hours or overnight.  Store in airtight container.
Nutritional Info:  Makes 75 (3 kisses per serving) 
Calories 9, Protein 0g, Effective Carbs 2g, Fat 0g