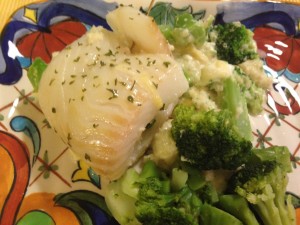 Light, yet satisfying!
Ingredients
1 lb fresh broccoli florets
1 ½ lb sole filets, 6 pcs
Cooking spray
1 tsp black pepper
Pinch of salt
Pinch of fresh ground pepper
½ cup water
Wine sauce:
2 Tbls butter
2 Tbls shallots, chopped
¾ cup dry white wine
Directions
Preheat the oven to 425 degrees.
Remove tough stalk from broccoli and break into florets. In saucepan, steam broccoli over water until crisp-tender.
Rinse sole under cool water, pat dry with paper towel and lightly coat one side of filet with cooking spray. Place several florets on narrow end of sole and wrap fish around broccoli. Fasten with wooden pick.
Place fish bundles in baking dish, seam side down. Cover with foil and bake 12-16 minutes or until opaque, but still moist. Remove from oven and season with salt & pepper. Spoon wine sauce over fish to serve.
Wine Sauce:  In medium skillet, over medium heat, combine butter and shallots. Cook until shallots are golden brown, about 3 minutes. Increase temperature to high, add wine and bring to boil. Stir until mixture is reduced ¼ cup (about 6 minutes).
Makes 6 servings
Nutrition Facts:
Calories 188
Total Fat 3g
Total Carbohydrates 6g
Dietary Fiber 2g
Protein 33g
Print Recipe: Broccoli Stuffed Sole