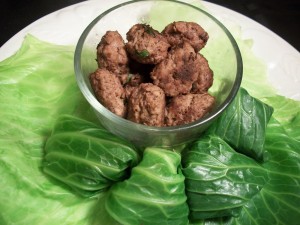 A healthy twist to a traditional favorite!
Ingredients
1 medium head cabbage
1 pound lean ground pork
2 green onions, chopped
2 tsp sesame oil
1 Tbls soy sauce
¼ tsp ground ginger
Cooking spray
Directions
Bring large pot of water to a boil.
Wash and cut cabbage in half. Cut the core from each half and separate at least 16 of the large outer leaves from both halves. Add to boiling water for 2 minutes until crisp-tender. Use slotted spoon to remove and place on paper towels to drain.
Prepare pot-sticker filling by combining ground pork, chopped green onions, sesame oil, soy sauce and ginger in a large mixing bowl. Use your hands to mix well.
Place a large nonstick pan over medium-high heat and spray with cooking spray. Form the pork filling into thick oval patties about the size of your thumb.
Place the patties into the pan and cook about 4 minutes on each side, until cutting into one shows no pink. You may need to cook in two batches.
Wrap each patty individually in leaves and secure with toothpick or serve with leaves for guests to assemble themselves.
Note: These may be served with a tangy dipping sauce. I suggest ¼ soy sauce, 2 tsp sesame oil, 1 tsp minced garlic and a sprinkle of Splenda stirred together.
Makes 8 servings
Nutrition Facts (without dipping sauce):
Calories 180
Total Fat 9g
Effective Carbohydrates 6g
Dietary Fiber 2.5g
Protein 17g
From The Good Carb Chef