Quick & easy with the bright flavor of lemon!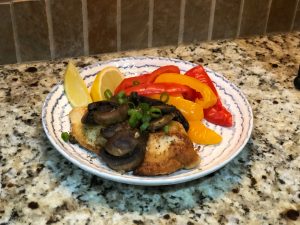 Ingredients:
4 (3 oz) chicken breasts
4 Tbls finely ground almond flour
2 Tbls butter, divided
8 oz mushrooms, sliced to 1/4"
2 cloves garlic, minced
¼ cup chicken broth
Juice of ½ lemon, cut the remainder in wedges
Fresh parsley
Salt & pepper to taste 
Directions
Flatten chicken breasts with mallet to about ¼ inch thickness.
Dredge chicken in almond flour with very light coating and season with salt & pepper.
Heat 1 Tbls butter in skillet and cook chicken on each side until golden brown and cooked through. Remove to warm plate.
Melt remaining butter in skillet and add garlic and mushrooms. Cook for 3-4 minutes or until tender and add chicken broth. Cook to reduce sauce a bit and add lemon juice.
Spoon mushrooms and sauce over chicken and sprinkle with parsley and lemon wedges to serve.
Add your favorite veggie or side salad to round out your meal!
Makes 4 servings
Nutrition Facts:
Calories 235
Total Fat 13g
Total Carbohydrates 2g
Dietary Fiber 1g
Protein 27g
Print Recipe: Chicken and Mushrooms with Lemon and Garlic
For more recipes like this, visit our Pinterest page! https://www.pinterest.com/cfwlsva/