Not your typical side salad!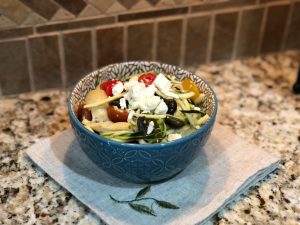 Ingredients:
1 medium zucchini
4-6 cherry tomatoes
1 Tbsp Kalamata or black olives, sliced
½ cup marinated artichoke hearts, quartered or chopped
1 Tbsp feta cheese, crumbled
Dressing:
1 tsp. white wine vinegar
1 tsp. lemon juice
Salt & pepper to taste
Directions:
1. Combine sliced or spiralized zucchini, halved tomatoes, sliced olives, & chopped artichoke hearts.
2. Stir together dressing ingredients.
3. Drizzle salad with dressing and toss to coat.
4. Toss in bowl and top with feta cheese.
Makes 2 servings
Nutrition Facts:
Calories 164
Total Fat 6.4g
Total Carbohydrates 22.4g
Dietary Fiber 9.6g
Protein 8.5g
Print Recipe: Greek Salad with Zucchini