You can make it as spicy as you want – I like it hot!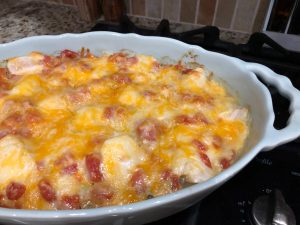 Ingredients
2 chicken breast halves, cut into 1-2" chunks
1 red or yellow bell pepper, diced
1 can black beans, rinsed and drained
1 cup Mexican cheese blend, shredded
1 package frozen riced cauliflower
10 oz can of Rotel (any style you like) or 1 cup salsa
1 pkg of creamy chicken protein soup mix
½ cup hot water
Directions
Thaw cauliflower and spread in the bottom of casserole dish.
Top with chunks of chicken, pepper and black beans.
Stir soup mix with hot water until mixed and add tomatoes/salsa (not drained).
Pour over entire casserole.
Sprinkle with cheese and bake at 350 degrees for 45 minutes.
Serve with sour cream if desired.
Makes 6 servings
Nutrition Facts:
Calories                                 135
Total Fat                                  3g
Total Carbohydrates             7.5g
Dietary Fiber                        1.5g
Protein                                  18g
Note: Try using green beans in place of riced cauliflower for a bit of variation!
Print Recipe: Chicken Diablo