Tangy & tasty with a hint of smoke!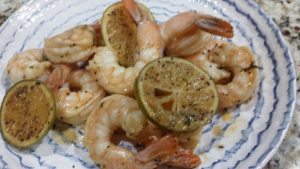 Ingredients|
1 Tbls olive oil
1 Tbls butter
2 limes, sliced thin
4 cloves garlic, minced or crushed
1 tsp smoked paprika
½ tsp red pepper flakes (if desired)
½ cup white wine
2 lb large shrimp (peeled & deveined with tails)
1 Tbls Fresh ground pepper
½ Tbls Sea salt
½ cup fresh cilantro, chopped
Package of riced cauliflower – cooked
Directions
Heat oil over medium to high heat and allow to coat the bottom of the cast iron skillet.
Add butter and heat until it bubbles.
Add lime slices and garlic. Cook for 30-45 seconds.
Add paprika, salt, peppers & wine and allow to simmer for 2-3 minutes to reduce by half.
Add the shrimp and stir often allowing it to cook until pink. Remove from skillet and plate.
Serve with riced cauliflower and sprinkle with more cilantro if desired.
Makes 4 servings
Nutrition Facts: (not including cauliflower)
Calories                       255
Total Fat                            8g
Total Carbohydrates    2.5g
Dietary Fiber                0g
Protein                                        34g
Print Recipe: Lime and Cilantro Shrimp Skillet