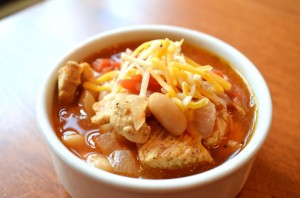 1 tablespoon extra-virgin olive oil
1 medium onion, roughly chopped
1 garlic clove, minced
1 pound boneless skinless chicken breast
1 tablespoon chili powder
1 teaspoon ground cumin
1 (15-ounce) can cannellini beans, rinsed and drained
1 (14 1/2–ounce) can fire roasted diced tomatoes
1 cup low-sodium chicken broth
Salt and freshly ground black pepper
Directions
Heat oil in a large saucepan over medium-high heat. Add onion and cook, stirring occasionally, until softened, about 5 minutes. Add garlic and cook 1 minute more.
Add chicken, chili powder, and cumin; cook, stirring often, until turkey is no longer pink inside, about 5 minutes.
Add beans, tomatoes with juice, and broth; bring to a boil. Reduce heat to medium-low, cover, and simmer until flavors blend, about 15 minutes. Season with salt and pepper to taste and serve.
Makes 4 servings
Nutritional Information:
Calories:       260
Effective Carbs   15g
Fat             5g
Protein         34g
Print Recipe  Chicken and White Bean Chili