Tangy lemon and herbs make this easy one dish meal a standing favorite!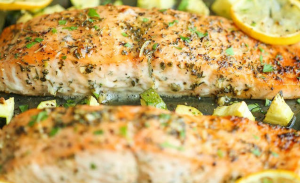 Ingredients
4 zucchini, chopped
4 (5-ounce) wild salmon fillets
2 Tbls olive oil
Sea salt and freshly ground black pepper, to taste
1 Tbls honey
2 Tbls freshly squeezed lemon juice
1 Tbls Dijon mustard
2 cloves garlic, minced
1/2 tsp dried dill
1/2 tsp dried oregano
1/4 tsp dried thyme
1/4 tsp dried rosemary
2 Tbls chopped fresh parsley
Directions
1. Preheat oven to 400 degrees F. Lightly oil a baking sheet or coat with nonstick spray.
2. In a small bowl, whisk together honey, lemon juice, Dijon, garlic, dill, oregano, thyme and rosemary; season with salt and pepper, to taste. Set aside.
3. Place zucchini in a single layer onto the prepared baking sheet. Drizzle with olive oil and season with salt and pepper, to taste. Add salmon in a single layer and brush each salmon filet with herb mixture.
4. Place into oven and cook until the fish flakes easily with a fork, about 16-18 minutes.  (or seal everything in a foil pouch and throw it on the grill)
5. Serve immediately, garnished with parsley, if desired.
Makes 4 servings
Nutritional Information:
Calories: 283
Carbs 7.8g
Fiber 1g
Fat 16g
Protein 32g
Print recipe  Salmon and Zucchini Bake