It doesn't get much better than this!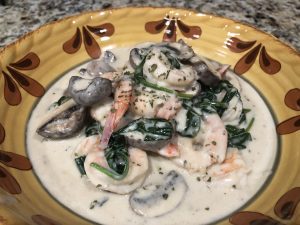 Ingredients
1 lb raw shrimp, peeled & deveined
8 oz baby bell mushrooms
3 oz baby spinach
2 Tbls butter
3 cloves garlic, minced
1 tsp dried basil
½ cup chicken broth
½ cup half & half
2 tsp arrowroot powder (or cornstarch)
Salt & pepper to taste
1/2 cup parmesan cheese
Directions
1. Toss shrimp with salt & pepper, sprinkle with basil.
2. Melt 1 Tbls butter in skillet and cook shrimp over medium heat until pink, turning to cook evenly on both sides. Remove from skillet.
3. Melt remaining butter in skillet and add garlic. Saute and add chicken broth and spinach.
4. Combine half & half with arrowroot powder and pour over wilted spinach. Stir mixture until it starts to thicken.
5. Stir in parmesan cheese and cook until cheese is melted.
6. Toss in shrimp and stir to coat.
7. Sprinkle with basil and serve.
Makes 4 servings
Nutrition Facts:
Calories 276
Total Fat 13g
Total Carbohydrates 8g
Dietary Fiber 1g
Protein 32g
Print recipe: creamy shrimp with mushrooms and spinach