Simple flavors combine for a winner!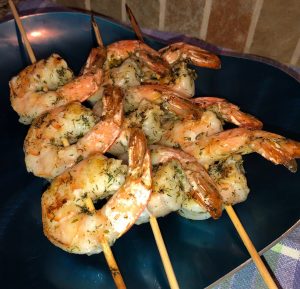 Ingredients:
8 oz large shrimp, peeled & deveined
1 Tbsp olive oil (I used dill infused for extra flavor)
2 cloves garlic, minced
Juice from 1 lemon
1 tsp dried dill
Aioli:
3 Tbsp light mayo
2 oz plain Greek yogurt
1 tsp dried dill
1 tsp dried parsley
½ tsp celery salt
½ tsp garlic powder
½ tsp onion powder
½ tsp sea salt
Directions:
1. Combine oil, garlic, lemon juice and dill in resealable bag or covered bowl. Add shrimp and toss to coat.
2. Combine aioli ingredients and chill until serving.
3. Thread shrimp onto skewers and grill over medium heat until pink, turning once.
4. Serve each portion with ¼ of the aioli sauce.
Makes 2 servings (this recipe easily doubles)
Nutrition Facts for Shrimp:
Calories 195
Total Fat 8.9g
Total Carbohydrates 1.7g
Dietary Fiber 0g
Protein 25.8g
Nutrition Facts for Aioli: (1/4 recipe)
Calories 81
Total Fat 2.6g
Total Carbohydrates 3.8g
Dietary Fiber 0g
Protein 11g
Print Recipe: Dilly Grilled Shrimp