Mediterranean sheet pan meal that will quickly be one of your favorites!
Ingredients: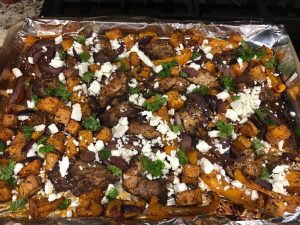 1 pound chicken breasts, cut into chunks
2 small sweet potatoes, diced large
1 medium red onion, cut in wedges
1 sweet pepper, sliced
2 Tbsp olive oil (I used garlic infused)
2 Tbsp aged balsamic vinegar
Juice from ½ lemon
1 tsp dried tarragon
1 tsp dried oregano
1 tsp paprika
1 tsp sea salt
½ tsp fresh ground pepper
4 oz crumbled feta cheese
2 Tbsp sliced kalamata olives
Fresh parsley
Directions:
1. Combine oil through pepper and whisk together. Add chicken, potatoes, onion and sweet pepper and toss until coated.
2. Preheat oven to 425 degrees and line a baking sheet with foil or parchment.
3. Spread chicken & veggies onto the baking sheet in a single layer.
4. Bake for 40-45 minutes or until chicken is done. Sprinkle feta, olives and parsley over entire pan and serve.
Makes 6 servings
Nutrition Facts:
Calories 277
Total Fat 14.7g
Total Carbohydrates 10.5g
Dietary Fiber 1.1g
Protein 25g
Print Recipe: Easy Baked Balsamic Chicken