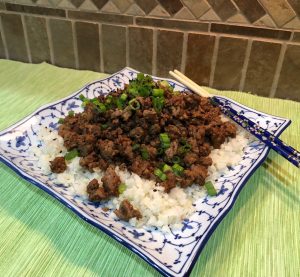 A great weeknight dinner – quick & easy!
Ingredients:
1 pound ground turkey
1 tsp garlic powder
1 Tbsp honey
2 Tbsp soy sauce
2 tsp sesame oil
1 tsp fresh ground ginger or ¼ tsp dried
¼ tsp red pepper flakes (adjust to taste)
Fresh ground pepper to taste
1 pkg riced cauliflower
1 green onion, sliced
Sesame seeds
Directions:
1. Brown ground turkey over medium heat until cooked through.
2. Mix garlic through pepper in small bowl and add to ground turkey. Simmer and stir to coat and sauce is absorbed.
3. Prepare riced cauliflower as directed, drain if necessary & spread onto plate. Top with ground turkey mixture and garnish with green onion & sesame seeds.
Makes 4 servings
Nutrition Facts:
Calories 277
Total Fat 14.7g
Total Carbohydrates 7.4g
Dietary Fiber 1.1g
Protein 32.6g
Print Recipe: Korean Turkey and Rice