The satisfying crunch without the carbs!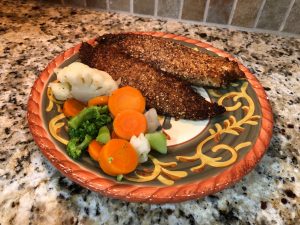 Ingredients
1 pound tilapia filets
1 egg
1 tsp soy sauce
1 tsp sriracha sauce
½ tsp garlic powder
¼ tsp ground ginger
½ tsp dried cilantro
½ cup almond meal
½ cup desiccated unsweetened coconut
Cooking spray
Directions
1. Preheat oven to 375 degrees. Coat baking sheet with cooking spray.
2. Beat egg, soy sauce, & sriracha sauce in shallow dish.
3. Place dry ingredients in shallow dish and mix thoroughly.
4. Dip each filet in egg mixture and dredge in dry coating.
5. Place each filet on baking sheet with space between.
6. Spray upper side of each filet with olive oil spray or cooking spray.
7. Bake in center of oven until flaky and crust is browned, approx. 15-20 minutes.
Makes 4 servings
Nutrition Facts:
Calories 260
Total Fat 14g
Total Carbohydrates 3g
Dietary Fiber 2g
Protein 32g
Print Recipe: Coconut Crusted Tilapia