Cheese makes almost everything better!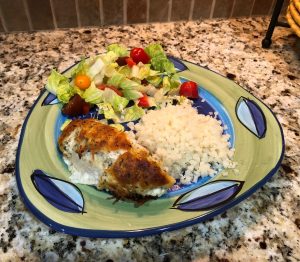 Ingredients
4 (3-4 oz) chicken breasts
8 oz Greek non-fat yogurt
1 tsp dried oregano
1 tsp dried basil
1 clove garlic, minced or 1 tsp garlic powder
Salt & pepper to taste
½ cup grated parmesan cheese
2 slices provolone cheese
Directions
1. Preheat oven to 375 degrees. Coat baking dish with cooking spray.
2. Place chicken breasts in glass baking dish.
3. Top each with ½ slice provolone.
4. Mix together yogurt through parmesan and spread over chicken breasts.
5. Serve with a garden salad & riced cauliflower.
Makes 4 servings
Nutrition Facts:
Calories 240
Total Fat 9.5g
Total Carbohydrates 2g
Dietary Fiber 0g
Protein 35.5g
Print Recipe: Baked Cheesy Smothered Chicken