A quick & easy weeknight dinner!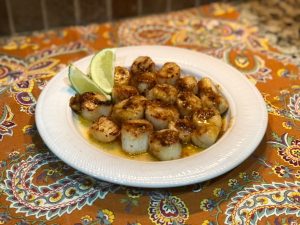 Ingredients
2 Tbls butter
1 lb sea scallops
Salt & pepper to taste
Dressing:
2 Tbsp Thai red chili sauce
2 cloves garlic, minced
Thai basil, sliced in thin strips
1 lime, wedged
Directions
1. Rinse and drain scallops. Pat dry with a paper towel. Sprinkle with salt & pepper.
2. In heavy skillet, melt butter over high heat. Once it begins to foam, add scallops and allow to brown, about 3-4 minutes. Turn scallops.
3. Add garlic, basil and chili sauce and allow to brown slightly (but do not coat scallops).
4. Remove scallops to a plate when browned on both sides. Spoon sauce over to serve. Garnish with lime wedges and extra basil.
Makes 4 servings
Nutrition Facts:
Calories 155
Total Fat 11g
Total Carbohydrates 3g
Dietary Fiber 0g
Protein 20g
Print Recipe: Seared Scallops with Thai Chili Sauce