You control the heat!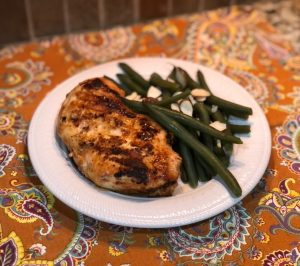 Ingredients
8 oz plain Greek yogurt
2 Tbls sriracha or harissa sauce
2 cloves garlic, minced
Juice from ½ lime or lemon
1 Tbls cumin
1 Tbls tarragon
Salt & pepper to taste
4 (4 oz) chicken breasts
Directions
1. Combine yogurt, sriracha sauce, lime juice, cumin, tarragon, and salt & pepper in a bowl.
2. Place chicken in shallow dish or in resealable bag. Use ½ the sauce and coat chicken breasts evenly. Allow to marinate in refrigerator for at least 2 hours. (reserve ½ the sauce for serving)
3. Grill chicken over medium-high heat until cooked through – turning once.
4. Serve with green vegetable or salad and extra sauce.
Note: Adjusting the hot sauce to your personal taste does not alter the nutritional information by much.
Makes 4 servings
Nutrition Facts:
Calories 138
Total Fat 3g
Total Carbohydrates 1.6g
Dietary Fiber 0g
Protein 24g
Print Recipe: Spicy Yogurt Grilled Chicken