Hint: Partially freezing the meat prior to cutting it will allow for a nice thin slice or ask the meat department to slice it for you.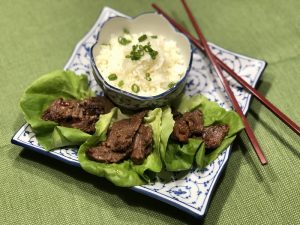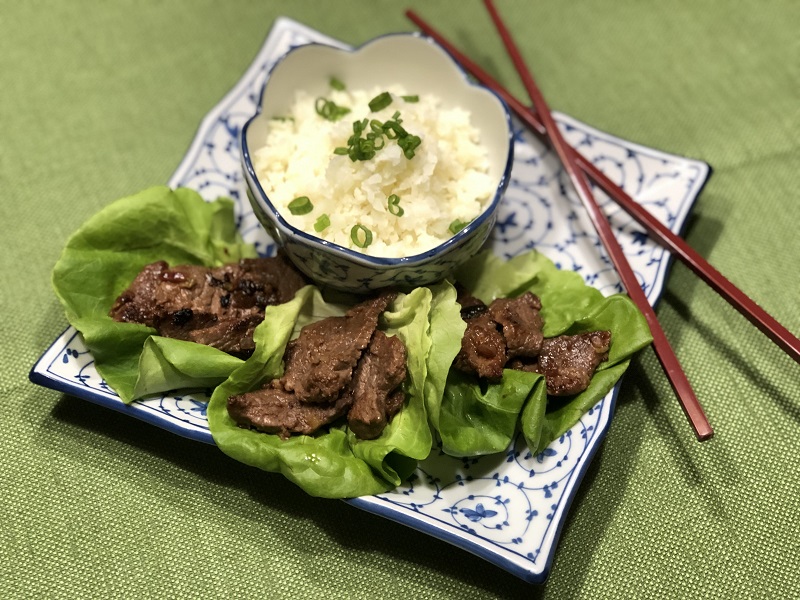 Ingredients
1 lb flank steak
2 Tbls vegetable oil
1 small apple, shredded
½ red onion, thinly sliced
4 cloves garlic, minced
1 Tbls red chili paste
1 Tbls soy sauce
1 Tbls brown sugar or brown sugar substitute
1 Tbls sesame oil
4 green onions, sliced
1 jalapeno, diced
Sesame seeds for garnish
1 head Bibb or Boston lettuce
1 package riced cauliflower
Directions
Slice meat and place into a gallon sized resealable bag. Add shredded apple, onion, chili paste, soy sauce, brown sugar, sesame oil, jalapeno and all but 2 Tbls of the green onion tops (to garnish riced cauliflower). Allow meat to marinate 2-4 hours or overnight.
Heat oil in a large cast-iron skillet over medium high heat. Arrange meat slices in single layer and turn after browning – about 2-3 minutes. Brown on other side and then add remaining marinade mix to pan. Cook 2-3 minutes.
Serve with lettuce leaves and riced cauliflower. Garnish with remaining green onion and sesame seeds.
Makes 4 servings
Nutrition Facts:
Calories                                              284
Total Fat                                              14g
Total Carbohydrates                            14g
Dietary Fiber                                         4g
Protein                                                26g
Print Recipe: Beef Bulbogi in Lettuce Wraps