All the great taste without the mess!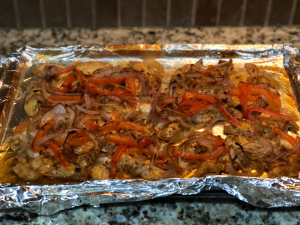 Ingredients
1 pound boneless skinless chicken breasts
2 tsp Taco or Fajita seasoning
1 each, red, green & yellow peppers, sliced
1 onion, sliced thin
2 Tbls olive oil
Shredded cheese, sour cream & salsa to garnish
Low carb tortillas – optional
Directions:
1. Slice chicken breasts into thin pieces and place in bowl. Sprinkle seasoning mix over pieces and toss to coat.
2. Spread chicken over foil-lined baking pan. Top with peppers and onions and drizzle with olive oil. (Add red pepper flakes for extra heat if desired).
3. Bake at 400 degrees for 25-30 minutes or until browned and chicken is cooked through. Serve with low carb tortillas, salsa, cheese & sour cream.
Nutritional Info: Serves 4
(without tortilla & toppings – adjust accordingly)
Calories: 287
Fat 15.4g
Total Carbohyrate 2.6g
Fiber .6g
Protein 33.1
Print recipe: Sheet Pan Fajitas