Perfect for when you want something crunchy!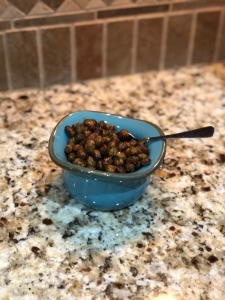 Ingredients
1 pound bag frozen edamame (in pod)
1 tbsp olive oil
Garlic salt (or other seasoning of your choice)
Directions:
1. Microwave edamame according to directions on package.
2. Shell and separate beans into bowl.
3. Drizzle with olive oil and spread onto baking sheet.
4. Sprinkle with seasoning.
5. Bake at 225 degrees for 45-50 minutes. Check and stir every 5 minutes toward the end.
6. Cool & serve.
Nutritional Info: Serving size ½ cup
Calories: 140
Fat 7g
Total Carbohydrate 12g
Fiber 9g
Protein 9g