A great balance of flavors – a side salad makes it a perfect meal!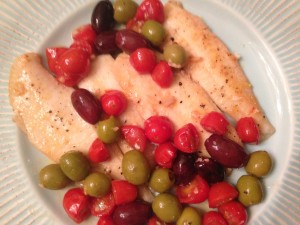 Ingredients
8 oz. flounder fillets
1 Tbls butter
2 cloves garlic, minced
8 oz. black & green olives
½ cup grape tomatoes, halved
Pinch of dried oregano
Pinch of dried basil
Pinch of dried parsley
Salt & pepper
Directions
Preheat skillet and add butter to melt.
Add minced garlic and allow to soften.
Dry flounder fillets and add to skillet. Cook 2 minutes on one side and turn.
Add olives, tomatoes and seasonings.
Heat through – it helps to spread out the tomatoes & olives.
Makes 2 servings
Nutrition Facts:
Calories 312
Total Fat 19.5g
Total Carbohydrates 7g
Dietary Fiber 6g
Protein 20g
Print Recipe  Flounder with Olives and Tomatoes