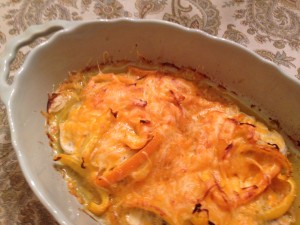 Serve with a side salad or green vegetable for a complete meal!
Ingredients
4 boneless, skinless chicken breasts
1 red or yellow bell pepper
1 tsp cumin
1 tsp oregano
1 tsp red pepper flakes (optional)
2 cloves garlic, minced
1 cup shredded Colby-jack cheese
Directions
1. Preheat the oven to 375 degrees.
2. Spray baking dish with cooking spray.
3. Place chicken breasts in bottom of dish and sprinkle with seasonings.
4. Cut pepper into thin strips and scatter on top of chicken.
5. Sprinkle entire contents with shredded cheese.
6. Bake for 45-50 minutes or until chicken is no longer pink.
Makes 4 servings
Nutrition Facts:
Calories 245
Total Fat 9g
Total Carbohydrates 4g
Dietary Fiber 1g
Protein 42g
Print Recipe:  Mexican Chicken Bake