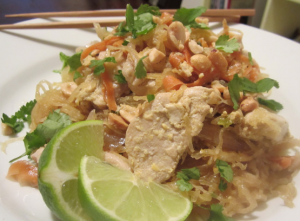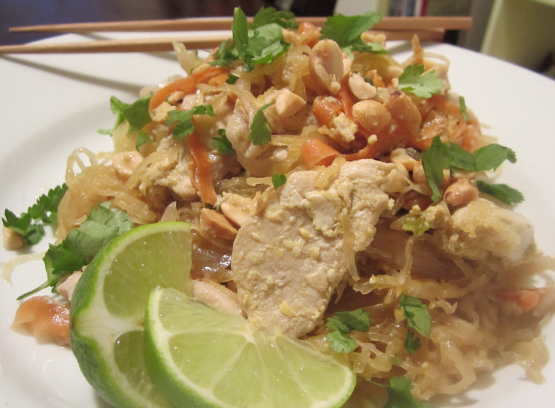 All of the flavor you love in this low carb pad thai recipe!
Ingredients
4 boneless, skinless chicken breasts
1 large spaghetti squash
1 cup shredded carrot
1 red sweet pepper, sliced thin
3 cloves garlic, minced
¼ cup cilantro, chopped
½ cup peanuts, coarsely chopped
2 Tbls olive oil or avocado oil
Sauce:
¼ cup chicken broth
¼ cup rice vinegar
2 Tbls lime juice
1 Tbls honey
¼ cup soy sauce
1 tsp sesame oil
¼ tsp pepper
Directions
1. Preheat the oven to 350 degrees.
2. Split spaghetti squash in half lengthwise and scoop out seeds. Lay cut side down on foil lined baking sheet.
3. Bake squash for 45-60 minutes. Remove and allow to cool for 5-10 minutes. Turn over and scoop out flesh with fork. Drain excess moisture if necessary.
4. While squash is baking, make the sauce. Put all sauce ingredients together in small saucepan and heat over medium-high heat. Simmer and keep warm.
5. Cook chicken and cut up into small pieces. Season with salt and pepper.
6. Add oil to large skillet or wok and heat to medium-high heat. Add chicken, carrots, pepper and garlic. Cook until carrots are crisp-tender.
7. Stir in cilantro and half of the peanuts. Pour sauce over entire mixture and stir.
8. Serve with remaining peanuts and additional cilantro. Garnish with lime wedges.
Makes 6 servings
Nutrition Facts:
Calories 263
Total Fat 11g
Total Carbohydrates 19g
Dietary Fiber 5g
Protein 20g
Print Recipe: Spaghetti Squash Pad Thai