A delicious blend of sweet & savory that's bound to become a favorite!
Ingredients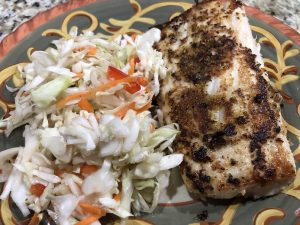 Fish:
1 lb mahi mahi filets
1 ½ tsp paprika
1 tsp brown sugar
1 tsp garlic powder
1 tsp onion powder
1 tsp ground cumin
½ tsp chili powder
¼ tsp oregano
Salt & pepper to taste
1 Tbls olive oil
Slaw:
1 6 oz. package cole slaw mix with carrots
¼ red pepper, sliced thin
½ cup green onions, sliced
2 Tbls lime juice + zest
1 Tbls honey
1 clove garlic, minced
2 Tbls olive oil
¼ cup fresh cilantro, chopped
Directions
Combine spices & sugar in shallow dish and mix thoroughly.
Coat both sides of mahi filets.
Heat olive oil in cast iron skillet to medium-high heat.
Add fish and allow to cook until golden on one side, then turn gently.
Fish is done when it flakes easily. Remove from heat and plate.
Combine slaw mix, pepper & onion together.
Combine remaining ingredients in a small bowl and whisk to mix.
Pour over slaw mix and toss. Serve next to fish.
Makes 4 servings
Nutrition Facts:
Calories                       285
Total Fat                      12g
Total Carbohydrates    16g
Dietary Fiber                3g
Protein                        36g
Print Recipe:  Golden Mahi Mahi with Citrus Slaw