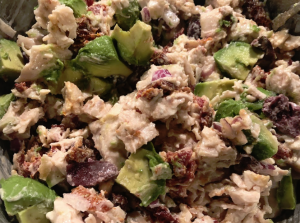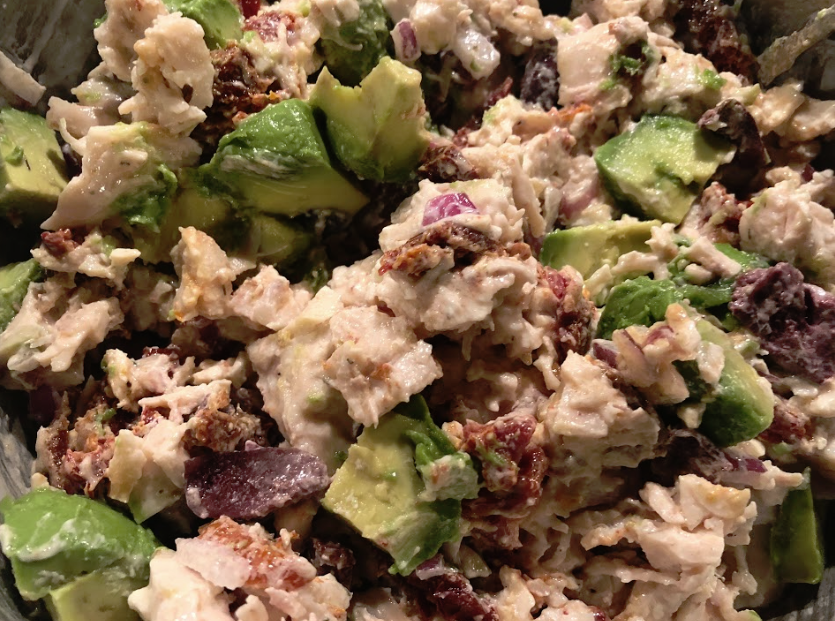 An abundance of flavor and beautiful too! 
Ingredients
Salad:
4 (1 lb) chicken breast halves – shredded or chopped
1 avocado – sliced
½ red onion – thinly sliced
½ cup kalamata olives – pitted and quartered
6 oz. jar (oil packed) sun dried tomatoes – drained & sliced
1/3 cup crumbled feta cheese
¼ cup pine nuts
Dressing:Greek Chicken Salad
1/3 cup olive oil
½ cup Greek yogurt – plain & 0% fat
¼ cup reduced fat mayo
½ tsp salt
¼ tsp black pepper
½ tsp garlic powder
1 tsp dried dill or ¼ cup fresh dill – chopped
1 Tbls white wine vinegar
Juice of 1 lemon
Directions
Combine all dressing ingredients. Whisk well and set aside.
Combine all salad ingredients in large bowl. Pour dressing over the top and toss well to combine. If preparing in advance, add avocado just prior to serving.
Makes 8 servings
Nutrition Facts:
Calories                                 316
Total Fat                                22g
Total Carbohydrates          7g
Dietary Fiber                        5g
Protein                  28g
Print Recipe Greek Chicken Salad
Adapted from Allrecipes.com