Easy to make & it adds a crunch to your yogurt or salads!
Ingredients
½ cup sliced almonds
½ cup slivered almonds
½ cup whole almonds
½ cup pecan pieces
1 cup unsweetened coconut flakes
3 Tbls chia seeds
½ cup pumpkin seeds
½ cup sunflower seeds
¼ cup coconut oil – melted
¼ cup granulated Splenda or other non-calorie sweetener
½ tsp salt
3 tsp cinnamon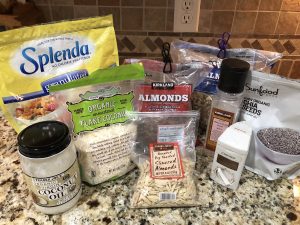 Directions
Preheat the oven to 350 degrees.
Line baking sheet with parchment paper.
Add all nuts and seeds to bowl & stir to mix.
Melt coconut oil and stir into the mix.
Add remaining ingredients and stir well.
Spread onto baking sheet and bake for 15 minutes.
Remove from oven and allow to cool for 30 minutes.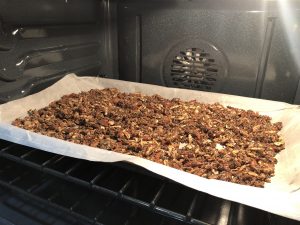 Makes 16 servings
Nutrition Facts:
Calories    210
Total Fat     20g
Total Carbohydrates   7g
Dietary Fiber    4g
Protein   7g
Note: You could probably cut back on the coconut oil a bit in order to decrease the amount of fat & calories. The nuts should contain enough oils to hold the spice mix.
Print Recipe: Cinnamon Crunch