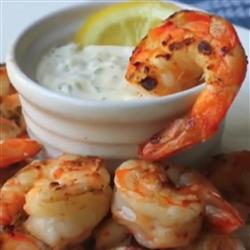 Ingredients
2 slices cured lemon*
1/2 cup mayonnaise
1 tablespoon minced fresh tarragon
1 teaspoon lemon juice
1 pound extra large shrimp, peeled and deveined
2 teaspoons olive oil
1 teaspoon smoked paprika
1/2 teaspoon kosher salt
Directions
Soak cured lemons briefly in a bowl with cold water to remove curing brine, about 10 minutes. Dry lemons with paper towels and finely mince.
Stir minced lemon, mayonnaise, tarragon, and lemon juice together in a bowl. Cover bowl with plastic wrap and chill aioli in the refrigerator until cold, at least 15 minutes.
Preheat an outdoor grill for high heat, and lightly oil the grate.
Put shrimp in a bowl. Drizzle olive oil and sprinkle paprika and salt over the shrimp, stir to coat shrimp completely.
Cook the shrimp on the preheated grill until they are bright pink on the outside and the meat is no longer transparent in the center, about 2 minutes per side. Transfer shrimp to a plate and serve with lemon aioli.
*cured lemons are available at Whole Foods or Williams-Sonoma and other specialty stores or make your own!
Serves: 4
Nutrition Facts:
Calories 311
Total Fat 25.3g
Effective Carbohydrates 1.6g
Protein 19g
From allrecipes.com
Print Recipe grilled shrimp with lemon aioli