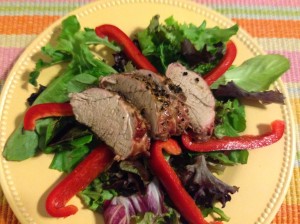 Ingredients
1 boneless pork loin, about 4 pounds
2 Tbls olive oil
2 Tbls chopped fresh basil
2 Tbls chopped fresh cilantro
1 Tbls sea salt
½ tsp fresh ground pepper
½ tsp garlic powder
Directions
Preheat the grill to medium high heat (350 degrees).
Coat the loin with olive oil, sprinkle with herbs & spices, then rub all into the meat.
Place pork loin onto grill over indirect heat.
Reduce heat slightly and allow to cook about 40 minutes or until internal temperature reaches 145 degrees.
Remove from grill and allow to sit 5 minutes before carving.
Makes 14-16 servings
Nutrition Facts:
Calories 180
Total Fat 6g
Total Carbohydrates 0g
Dietary Fiber 0g
Protein 30g