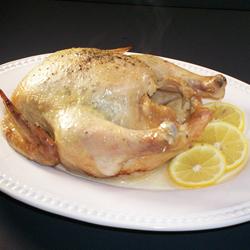 "A whole chicken is seasoned with lemon pepper, garlic, and thyme, then slow-cooked to perfection."
Ingredients
1 (2 to 3 pound) whole chicken, giblets removed
1/4 cup butter, softened
1 teaspoon lemon pepper
1 (1-inch thick) slice of lemon
2 cloves garlic, lightly crushed, or more to taste
2 tablespoons extra-virgin olive oil
2 teaspoons seasoned salt
1 teaspoon dried thyme
cracked black pepper to taste
Directions
Rinse chicken, pat dry with paper towels, and use your fingers to loosen the skin over the breast and thighs.
Stir butter and lemon pepper in a small bowl and insert seasoned butter beneath the loosened skin using a teaspoon. Push butter from spoon using the skin. Place lemon slice and garlic cloves into the chicken cavity.
Place chicken into a slow cooker. Rub skin with olive oil and sprinkle seasoned salt, thyme, and cracked black pepper over the bird.
Cook on High for 3 hours; reduce heat to Low and cook until chicken is very tender and an instant-read meat thermometer inserted into the thickest part of a thigh, not touching bone, reads at least 160 degrees F (70 degrees C), 2 to 3 more hours. If desired, cook bird on Low setting 6 to 8 hours.
Serves: 8
Nutrition Facts:
Calories 213
Total Fat 18.8g
Effective Carbohydrates .9g
Protein 19.3g
From allrecipes.com