Faster than ordering take-out and so much better for you!
Ingredients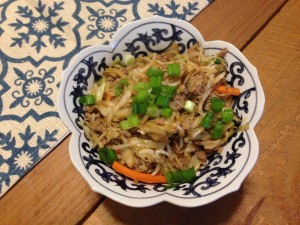 1 pound ground turkey
1 pkg – 6 cups coleslaw mix or shredded cabbage
4 cloves garlic, minced
1 Tbls fresh ginger or ¼ tsp powdered ginger
1 Tbls soy sauce
¼ cup sliced green onion
1 Tbls sesame oil
Directions
Brown ground turkey in large skillet or wok. Do not drain.
Add coleslaw mix, garlic and ginger. Cook for 4-5 minutes or until cabbage starts to soften.
Drizzle with sesame oil and stir in soy sauce.
Serve with green onion garnish and soy sauce.
Makes 4 servings
Nutrition Facts: (per serving)
Calories 210
Total Fat 10g
Carbohydrates 5.5g
Dietary Fiber 2.5g
Protein 24g
Print Recipe:  Inside Out Egg Roll