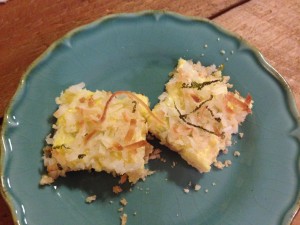 Ingredients
¾ cup coconut flour
¼ cup almond flour
1 and ¼ cup Splenda sugar substitute
¼ tsp sea salt
¼ cup coconut oil, room temperature
4 eggs
½ cup lime juice
2 Tbls lime zest
¼ cup unsweetened coconut flakes
Directions
1. Preheat oven to 350 degrees.
2. Spray 8×8 or 7×9 baking dish lightly with cooking spray.
3. Line with parchment paper, leaving ends to hang over the edge on 2 sides.
4. Whisk coconut and almond flours together. Add salt and ¼ sugar substitute and stir to blend.
5. Cut in coconut oil until well blended. Press into bottom of baking dish. Press down with back of spoon to smooth.
6. Bake for 10 minutes.
7. Beat together eggs, lime juice, 1 Tbls lime zest and remaining 1 cup sugar substitute.
8. Pour gently over crust and sprinkle top with coconut flakes.
9. Sprinkle with remaining lime zest and bake for 12-15 minutes or until center is set.
10. Allow to cool for 10 minutes. Run spatula around edge of dish and lift parchment gently to remove bars from baking dish and place onto cutting board.
11. Slice into bars and enjoy!
12. Keep refrigerated.
Makes 16 servings.
Nutrition Facts:
Calories 100
Total Fat 7.2g
Total Carbohydrates 5.7g
Dietary Fiber 2.5g
Protein 3.5g
Print recipe: Lime and coconut bars