Cutting back on carbohydrates can be a challenge at times but by learning to replace them with ones that taste nearly identical can be a really good alternative that can keep us on track.  Here we offer food substitutions for hash browns, mashed potatoes, lasagna, spaghetti, scalloped potatoes and bread:
For Hash Browns use summer squash instead of potatoes.  Simply grate the squash, mixing it with egg so that you can form patties and then frying them in olive oil.  They may not be as firm and crispy as hash browns but they will have potato flavor and you will eliminate 15 grams of carbohydrates.
For Mashed Potatoes use cauliflower instead of potatoes.  You can steam some fresh cauliflower in the microwave, spraying it with butter substitute and then pureeing it in a food processor or blender with a little nonfat half-and-half substitute.  You can then season with salt and pepper and add roasted garlic, cheese or sour cream to the mixture.  You will eliminate 30 grams of carbohydrate per cup.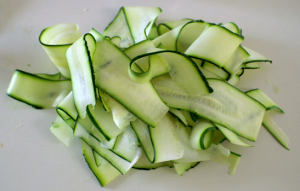 For Lasagna use zucchini slices for noodles.  You can slice 4-5 zucchini squash lengthwise into ¾ inch strips, sprinkling them with Italian seasoning and placing them on a nonstick cookie sheet.  Once you have baked them for 20 minutes at 425 degrees, you can make lasagna by replacing the noodles with these baked zucchini strips.  You will eliminate 36 carbohydrate grams per serving.
For Spaghetti use spaghetti squash.  Simply cut a spaghetti squash in half, removing the seeds and placing each half, cut side down, on a plate with ¼ cup of water.  Microwave for 10 minutes until soft to the touch, cool and then scrape out all the "spaghetti" strands.  Spaghetti squash has the same consistency as spaghetti and you will eliminate 30 carbohydrate grams per cup.
For Scalloped Potatoes  replace potatoes with tempeh.  Simply sauté thinly sliced tempeh with garlic and onions, covering it with a sharp cheese sauce and baking it for 30 minutes.  The tempeh will taste like a slightly nutty baked potato.  You will save 11 grams of carbohydrates per cup.
For Bread substitute Napa or Chinese cabbage.  You can roll your favorite cold cuts into a cabbage leaf instead of bread and dip the roll into a little mayonnaise or mustard.  This way,  you will eliminate 29 grams of carbohydrates per sandwich.