Even the kids love it!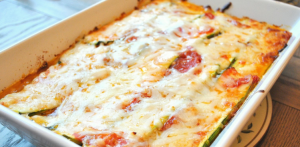 Ingredients
4 medium zucchini
1 lb. ground beef (or use turkey for less fat)
2 cups baby Portobello mushrooms, sliced
1 medium onion, finely chopped
2 cloves garlic, minced
1 jar pasta sauce (look for low sugar)
8 oz. tomato sauce
1 tsp dried basil
1 tsp dried oregano
1 tsp fennel seeds, crushed
1 egg, slightly beaten
15 oz fat-free ricotta cheese
2 cups shredded mozzarella cheese
Directions
Preheat broiler.
Slice zucchini lengthwise into ¼ inch planks. Spray each side with cooking spray and place them on a wire rack over a baking sheet. Broil for 10-12 minutes on each side or until lightly browned.
Reduce oven temperature to 375 degrees.
Brown ground turkey, onion, garlic and mushrooms in large skillet. Remove from heat and stir in seasonings, pasta sauce and tomato sauce.
Combine egg and ricotta cheese in small bowl.
Spread 1 cup of meat sauce into greased 9×13 baking dish. Top with zucchini slices and half of the ricotta cheese mixture. Sprinkle with ¾ cup of the mozzarella cheese. Repeat the process ending with sauce on top.
Bake uncovered for 20 minutes. Sprinkle with remaining cheese and bake an additional 10-15 minutes or until cheese is melted.
Let stand for 10 minutes before slicing.
Makes 12 servings
Nutrition Facts:
Calories 209
Total Fat 8g
Total Carbohydrates 15g
Dietary Fiber 3g
Protein 20g
Print Recipe: Zucchini Lasagna