Gluten-free and packed with protein!
Ingredients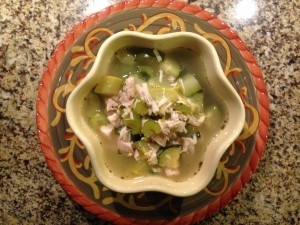 4 cups chicken broth
1 lb chicken breasts, chopped (about 4)
1 cup celery, chopped
1 medium zucchini, sliced & quartered
1 medium onion, chopped
1 clove garlic, minced
2 packets of Fettuccine Pasta (available at CFWLS)
¼ tsp basil
¼ tsp oregano
1 tsp black pepper
Salt & pepper to taste
Directions
Combine chicken, broth, celery, zucchini, onions and garlic in large saucepan. Make certain that all ingredients are covered with liquid (add water if necessary).
Bring to a boil over medium-high heat. Add pasta and reduce heat to medium.
Cook until pasta is done and season with oregano.
Serve immediately and season with salt & pepper.
Makes 4 servings
Nutrition Facts:
Calories 228
Total Fat 4g
Total Carbohydrates 8g
Dietary Fiber 3g
Protein 38.5g
Print Recipe Low Carb Chicken Noodle Soup