Another great fresh & tasty vegetarian option!
Ingredients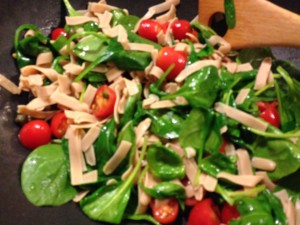 2 packets of Fettuccine Pasta (available at CFWLS)
2 tsp olive oil
4 cups fresh spinach
1 cup grape or cherry tomatoes
2 Tbls capers
1 clove garlic, minced
¼ cup fresh basil
¼ tsp oregano
1 tsp black pepper
1/4 tsp salt
4 Tbls Parmesan cheese
Directions
Cook pasta according to directions, drain.
Add olive oil to wok or skillet and heat to medium high.
Add spinach, tomatoes, capers, garlic and basil. Cook until slightly wilted and add pasta.
Season with oregano, salt & pepper.
Serve with 2 Tablespoons of parmesan cheese.
Makes 2 servings
Nutrition Facts:
Calories 222
Total Fat 9g
Total Carbohydrates 11g
Dietary Fiber 6g
Protein 26.5g
Print Recipe: Fettuccine with Spinach and Tomatoes