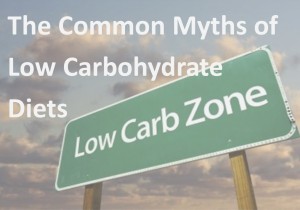 This week's Webinar (Tuesday, August 13th from 6pm-6:30pm) is called "Common Myths of Low Carbohydrate Diets".  What to eat can be so confusing.  Low calorie…low fat…low carbohydrate??  Dr. Clark dispels some myths you wonder about and simplifies this whole "diet" thing.  You won't want to miss it!  In the meantime, start your day out right with Dr. Clark's breakfast tips below.  Your body and mind will thank you!
What's the big deal about breakfast?
A Message from Dr. Clark:  I not only have the privilege of giving medical and surgical weight loss advice every day to some pretty awesome people, I really do "practice what I preach" each day as well.  One of my daily habits is eating a breakfast which includes at least 30 grams of delicious protein.  This prepares me mentally and physically for my busy day…and keeps my appetite satisfied until my next planned meal/snack.
I not only eat this breakfast for the reasons I mentioned, I eat it because my metabolism has slowed during the night while I was sleeping and I want to get it revved up and back on track.  I also want to support my lean body mass (which ultimately supports my metabolism) and 30 grams of protein for breakfast gets me off to a great start…and closer to my daily total of 90+ grams of protein each day.   If I can do it, you can do it too – and feel great!
Over the years I have been amazed at how many people struggling with their weight don't eat breakfast.  We have all heard that breakfast is the most important meal of the day so why would we choose to skip it?  Besides arguing that they don't have time to fix breakfast, individuals complain that they are not hungry for breakfast.  However…research suggests (and I agree) that breakfast skippers may be more prone to overeating later in the day.  It may lead to excessive afternoon snacking, extra-large dinners and nighttime snacking.  Research from the National Weight Control Registry has shown that weight loss maintainers are more likely to eat breakfast than not.  Many people who struggle with their weight skip breakfast and skimp on lunch.  By the time they eat a decent meal, they lose control over what and how much they eat.
If you're not hungry when you wake up, avoid snacking too much in the evening and/or avoid large dinner portions so that you don't feel too full to eat in the morning.  I suggest that you stop eating after 7:00 pm so that you are hungry within an hour or two of waking up and that seems to work for many people.  Think of eating a morning meal as refueling your body.  It has been said that "eating at night is like stoking the fire when the demand for fuel is low".  Give it a try and you will find that starting your day off with a healthy protein rich breakfast will set you up for a more successful day and improve your ability to reach your weight loss goals.
Breakfast ideas with 15 grams of carbohydrates or less (thanks Dawn!):
1 slice whole-wheat toast, veggie omelet
½  cup cottage cheese, 1 cup strawberries with 2 Tbsp. slivered almonds
1 egg, 2 turkey sausage links, 3/4 cup blueberries
½  cup low-carb yogurt, 3/4 cup raspberries
Breakfast burrito with low-carb tortilla, 2 eggs, ¼ cup cheese & salsa
Cantaloupe wedge & ½ cup cottage cheese sprinkled with cinnamon
Peanut butter wrap with low-carb tortilla, 1 Tbsp. peanut butter & sliced strawberries
2 fried eggs and jicama 'hashbrowns'
Another Great Idea from Dawn – Breakfast Burrito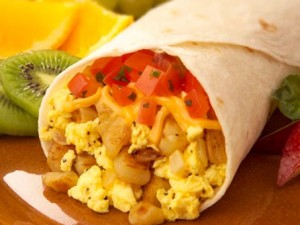 Ingredients:
2 large eggs
¼ cup shredded cheese
1 tbsp. salsa
1 low-carb tortilla (e.g. LaTortilla Factory with 8 effective carbs)
Instructions:
Coat skillet with cooking spray and fry or scramble eggs.  Sprinkle cheese on top of the tortilla and microwave for 30 seconds or until cheese starts to melt.  Top with eggs and salsa and roll into a burrito.
Nutritional Information: 
28 g Protein, 11 g Carbohydrates and 320 calories.
Remember…It's Your Life – Make it a Healthy One!