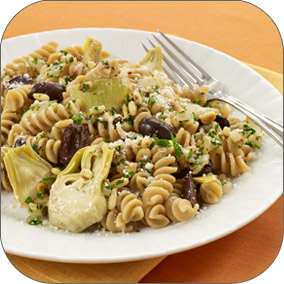 Ingredients:
3⁄4 cup pine nuts
1 tsp olive oil
2 garlic cloves, minced
1 cup chopped onions
10 Kalamata olives, pitted, sliced in half
2 (13 3⁄4-oz) cans artichoke hearts, water packed, drained and sliced
1 tsp Italian Seasoning Blend
1⁄2 cup vegetable broth
4 packets Proti fusilli pasta, cooked according to directions
1⁄2 cup chopped fresh parsley
1⁄4 cup Parmesan cheese
Directions:
1. In a small skillet, over medium-low heat, toast pine nuts for 4 to 6 minutes, stirring often. Remove from heat and set aside.
2. Spray a large skillet with nonstick cooking spray. Place the skillet over medium-high heat and add olive oil. When oil is hot, add garlic, onions, and olives. Sauté 1 to 2 minutes.
3. Add artichoke hearts and seasoning. Cook 1 to 2 minutes.
4. Add broth to the skillet. Bring to simmer. Remove from heat.
5. Place hot cooked pasta in a large bowl and pour artichoke sauce over pasta. Add parsley and toasted pine nuts. Toss to mix well. Top each serving with cheese.
Makes 4 servings.
Nutrition Facts:
Calories 255
Total Fat 6g
Total Carbohydrates 26g
Dietary Fiber 14g
Protein 26g