Now, more than ever, it's important to plan your meals and snacks.  If you're working from home, the kitchen & pantry are just too close for comfort! Really, the last thing you want to get out of your time in quarantine is a larger waistline.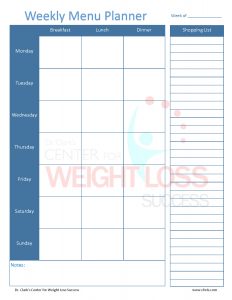 Take the time you're saving by not commuting and plan your next week or 2 of meals and snacks.  It's easier than you may think.  Use this handy template or create your own on a whiteboard – whatever works for you!  CFWLS Weekly Meal Planner
Where to start?
Consider how much protein you need for your day.  What is your carbohydrate cap? These are the first 2 things you need to think about.
Make a list of all of the proteins and vegetables in your freezer, refrigerator & pantry. These are things you won't need to add to your grocery list and a good start for your menu plan.
Find recipes that use the primary ingredients that you have on hand. A great place to start is our Blog page or our Pinterest page. Pick out 4 or 5 to try this week. Most of them are quick & easy and use ingredients that you have on hand or are easy to find. The nutritional information is included but you may need to adjust for serving size if you're eating less than indicated.
You will want to use the perishables first so look at the proteins & veggies you found in the frig. They will be the key additions to your meals and snacks the early part of your week. I find it easiest to start with dinner (or the main meal of the day) and work from there. Pencil in those meals and you've begun!
Fill in the remaining main meals with recipes that contain the items that you found in your freezer and add any missing ingredients to your shopping list.
Breakfasts don't have to be complicated. Protein shakes, Greek yogurt, cottage cheese and the like can be quick and satisfying options. Stay away from any starchy items in your pantry as they tend to lead you toward a slippery slope when it comes to carbs later in the day. Pencil in your week with healthy options that you have and add any missing things to your list.
I leave lunches until last because it's a great place to use the leftovers from any previous meals. Figure out what you will have left over and slip it into your lunches for the week.  Keep in mind that the end of the week dinners may slip into next week's plan.
Snacks will be used to make up the rest of your protein target.  Keep in mind that many of these sources will also have carbohydrates so choose wisely.  Here's our handy 'Sack Lunch and Snack Ideas Trifold' handout for reference.
Now, before you forget, order those missing items from your local grocery store.  Online shopping has made it easy but keep in mind that the wait time right now is longer than normal. You may need to plan on picking up your items (or having them delivered) will be 2 or 3 days out and some items may be out of stock. (plan for allowances) You can refer to our Low Carb Shopping List for more ideas to keep on hand for next week.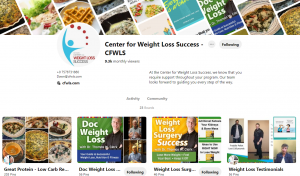 Additional resources:
Low Carb Substitutions for Cooking & Baking
Tips on Cooking and Low-Carb Eating
Baritastic Tips – A Great Tracking Tool!
CFWLS Monthly Menu Planner – for long range planning
Kids lunch and snack handout
Menu planner – 3 weeks – these are done for you but you can switch it up a bit!
Enjoy! This can truly be a fun and rewarding experience and is a great teaching tool for family members. Get the kids involved – they catch on quickly.
Reach out to me with any questions! Dawn@CFWLS.com