Not your typical fruit salad! Pairs great with anything off the grill – I served it with shrimp kabobs brushed with olive oil & red pepper flakes!
Ingredients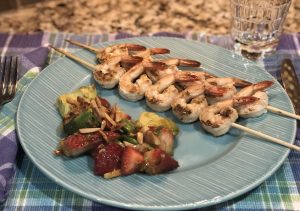 1 small avocado, sliced
5 or 6 strawberries, sliced
¼ cup slivered almonds, toasted
¼ tsp butter
Dressing:
1 tsp. honey
1 tsp. olive oil
1 tsp. lemon juice
Directions
Toast almonds over medium heat in skillet with ¼ tsp. butter. Set aside to cool.
Slice avocado & strawberries into small bowl.
Mix together dressing ingredients and pour over fruit.
Stir and top with almonds.
Makes 4 servings
Nutrition Facts:
Calories       159
Total Fat        14g
Total Carbohydrates 8g
Dietary Fiber   4.5g
Protein        2.5g
Print Recipe  Avocado Strawberry Almond Salad