A hearty breakfast – that makes great leftovers!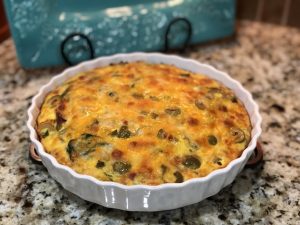 Ingredients
8 ounces ham, cubed
2 cups fresh mushrooms, sliced
10-12 green or black olives, sliced
6 eggs
1 ½ cup shredded cheese (I use a Mexican blend)
¼ tsp red pepper flakes
Salt & Pepper    
Directions
Preheat oven to 350 degrees. Spray large quiche dish with cooking spray.
Dice ham and slice mushrooms & olives.
Combine everything but ½ cup shredded cheese in a large bowl. Stir to . Add spinach mixture and stir to blend.
Pour into prepared dish and sprinkle with remaining cheese.
Bake in preheated oven until eggs have set, about 30-40 minutes. Let cool for 5 minutes before serving.
Note: I often add spinach or sweet peppers to this – it won't change the nutritional values much and it adds color & flavor!
Makes 6 servings
Nutrition Facts:
Calories         245
Total Fat          17g
Total Carbohydrates  3g
Dietary Fiber       .7g
Protein           20g
Print Recipe: crustless ham and cheese quiche