Pair it with fresh veggies or a colorful salad!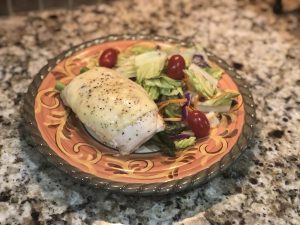 Ingredients
2 skinless, boneless chicken breasts (3 oz ea)
8 spears asparagus, trimmed to 6-7"
2 slices provolone cheese
Italian seasoning
Salt & pepper to taste 
Directions
Pound out chicken breasts to ¼" thickness.
Sprinkle Italian seasoning on inside of each breast and place 4 spears of asparagus on top.
Roll chicken breast around asparagus and place seam side down in baking dish.
Sprinkle top with more Italian seasoning.
Bake at 375 degrees for 25 minutes or until juices run clear.
Cover each chicken breast with a slice of provolone cheese and spinkle with salt & pepper.
Return to oven until cheese melts.
Serve with a salad or veggies.
Makes 2 servings
Nutrition Facts:
Calories       280
Total Fat        14g
Total Carbohydrates 4g
Dietary Fiber   2g
Protein        34g
Print Recipe: Asparagus Stuffed Chicken with Provolone