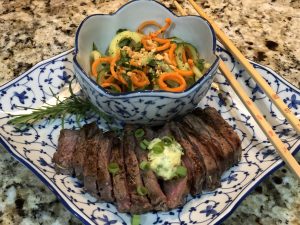 Pair it with fresh veggies or a colorful salad! (adjust the portion to control the calories & fat)
Ingredients
2 New York strip steaks (4-5 oz)
2 Tbls red wine vinegar
2 cloves garlic, minced
1 tsp dried rosemary
1 tsp oregano
Salt & pepper to taste
2 Tbls olive oil
2 Tbls butter
1 Tbls fresh chives
1 clove garlic, minced
¼ tsp fresh ground pepper
Directions
Mix vinegar through olive oil together in large resealable bag. Add steaks and allow to marinate for at least 30 minutes in refrigerator. Allow to come to room temperature prior to grilling.
Mix butter, chives, garlic & pepper. Set aside.
Grill steaks over medium heat to desired doneness. Allow meat to rest 5-10 minutes before slicing. Top with herbed butter and serve with green veggies or a side salad.
Makes 2 servings
Nutrition Facts: (for 4-ounce steak with 1 Tbls butter)
Calories       460
Total Fat        31g
Total Carbohydrates 2g
Dietary Fiber   1g
Protein        41g
Print Recipe: New York Strip Steak with Herbed Butter
Recipe for Cucumber Noodle Salad