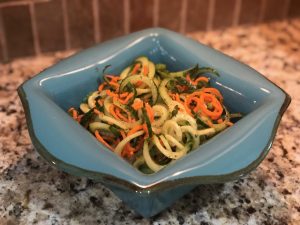 You'll want to serve this often – so easy to toss together and it looks like you fussed!
Ingredients
1 English cucumber
1 large carrot
3 Tbls lime juice
1 tsp honey
2 tsp olive oil
2 green onions, sliced
1 clove garlic, minced
¼ tsp red pepper flakes
1 handful fresh cilantro, chopped
1 Tbls peanuts, chopped small
Directions
Mix lime juice, honey, olive oil, green onions, garlic, red pepper flakes & cilantro together in medium bowl.
Spiralize or cut cucumber & carrots. Allow cucumber to sit on paper towel for a few minutes to absorb excess moisture.
Add cucumber & carrot to dressing and toss. Top with chopped peanut & serve!
Note: I used a large spiralizer blade for the cucumbers and a small one for the carrots. Both cucumber and carrots could be cut in rounds or julienne strips.
Makes 2-3 servings
Nutrition Facts:
Calories       125
Total Fat        7g
Total Carbohydrates 16g
Dietary Fiber   3g
Protein        3g