Serve with fresh veggies or a bright salad!
Ingredients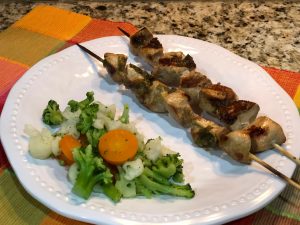 3 Limes (juice and zest) Divided
1/4 Cup Olive Oil
3 Tbls Dijon Mustard
3 Tbls Worcestershire Sauce
3 Tbls Soy Sauce
6 Green Onions, sliced
4 Cloves Garlic, minced
2 Tbls Fresh Basil, chopped
Salt and Pepper to taste
4 Chicken Breasts, sliced into cubes
Instructions
1. Combine the zest and juice of 2 limes, Olive Oil, Mustard, Worcestershire, Soy, 3 onions, 2 garlic
cloves salt and pepper and mix well.
2. Cut chicken into even cubes and place in a gallon sized baggie.
3. Pour marinade over the chicken and marinate for 1 hour. Thread onto 8 presoaked skewers.
4. Preheat grill.
5. Place chicken on grill and grill for 7 minutes.
6. Then flip and cook until internal temp reaches 170.
7. Remove from grill and let meat rest.
8. Meanwhile combine juice and zest of one lime with extra virgin olive oil, 3 chopped onions, 2
minced garlic cloves, basil.
9. Plate chicken kabobs & cover with sauce if desired.
Serves 8
Nutritional Info:
Calories 207
Fat 12g
Carbohydrates 4.5g
Fiber 1g
Protein 21g
Print Recipe: Basil-Lime Chicken Kabobs